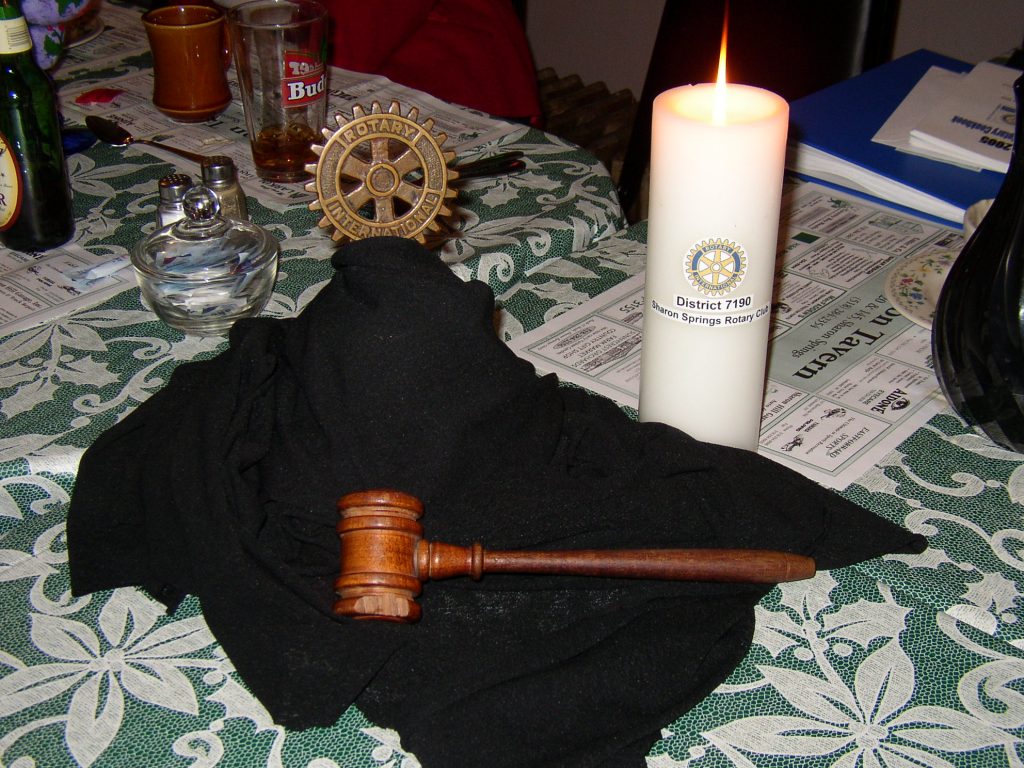 As declared by PDG Rodger L Reese in November 1989, the week of January 27th, the anniversary of the death of our Founder Paul Harris, is a time to officially remember and honor deceased memebers of our clubs. In 2005, the Sharon Springs Club officially adopted the practice and then Club President Pam Baxter wrote the following Commemorative Ceremony.
Shrouding of the Bell and Banner – at the beginning of the ceremony a black drape / scarf is wrapped around the bell and draped over the Club banner as the declaration of Commemorative week is read.
Candle Lighting – a single pillar candle is lit as the following is read: This candle is lit to signify the Light of Hope which burns in the heart of every Rotarian, the Fire that Ignites the compassion, strength and sense of community which every Rotarian possesses, with this candle we honor those who have taken part in creating a legacy for us and future generations to carry on.
Final Bell toll – read: As every meeting begins and ends with the tolling of the bell, this shall be the last toll for these special few who have been called to higher service. (ring bell after each name is read)
Conveying of Members – read: The members that we honor today are an important part of our past, just as those members here are an important part of our future. As we move these pages from our Membership Book to our Memory Book, so tooo we convey these members from Membership to Memory, so as never to forget the service they gave this community and this world. Their impact lives on. [a ceremonial moving of the biography page of each deceased member from the Membership Book into a Memory Book. Read the names and show a photo with each page moved]
Closing – read the Memorial poem The Chain will Link Again
The Chain will Link Again
We did not expect that day, 
God was going to call your name
In life we loved you dearly
In death we do the same.

It saddened many hearts to lose you
But you did not go alone
For a part of us went with you
The day you were called home.

A brother in service to community
To make better another life 
Always willing to lend a hand
No matter what the strife

You left behind a legacy
Service above self was your guide
And though we cannot see you
We know you are by our side.

A missing link is now created
Who will fill its place
But the next generation will carry on
And never leave an open space.

Our family chain has broken
And it will never be the same
But as we are called one by one
The chain will link again
Members Called to Higher Service
William Bianchine
Rev Robert Moore
Joseph Hegeman
Everett Mereness
Dr. Robert Shelmandine
Lynn Dievendorf
Milt Hall
Matthew Knight
Lewis Lipe
Ralph Eldredge
Leon Lappeus
Harold Dingman
Clayton Spraker
Seymour Myers
George Snyder
Henning Olsen
R. Carsten Sibbern
Avery DeLuca
Timothy Hayes
Clayton Bullock
O.R. Sheldon
Morgan Lynk
Edgar Handy
Richard Sanders
Harold Lappeus
John 'Jack' Dunne